Reicha, Mendelssohn & Smetana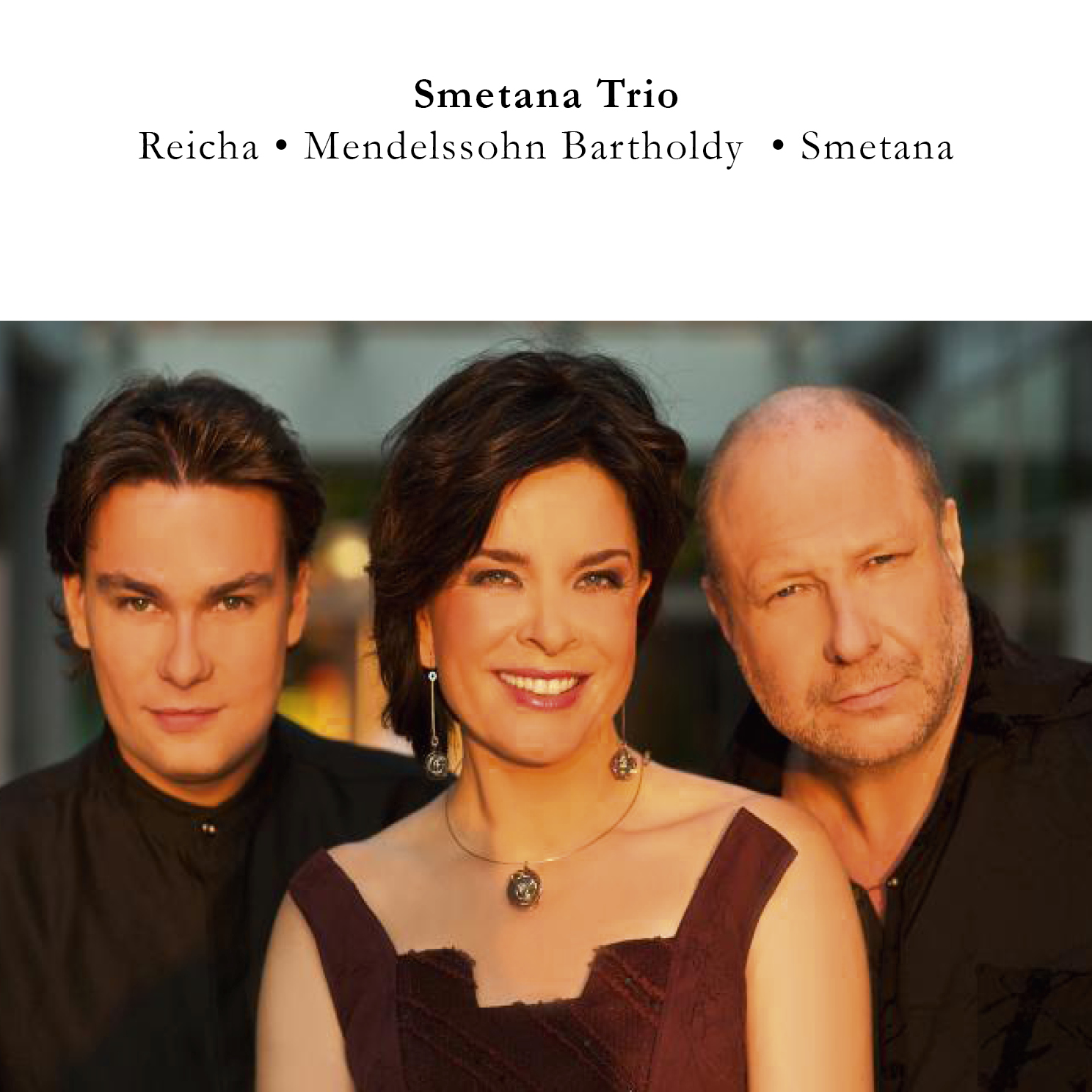 Live-opnamen zijn menigmaal aantrekkelijker dan studio-registraties. Bevlogenheid, spontaniteit, durf, het zijn tenminste drie interpretatieve componenten die een van nature toch al unieke live-uitvoering tot een buitengewone gebeurtenis kunnen maken. Mits ook zo vastgelegd kan de cd-koper er wel bij varen. Met de nadruk op mits, want achteraf in de studio alsnog ingrijpen kan de spanningsbogen tijdens het concert geheel of deels teniet doen. Die voorbeelden zijn er helaas. Soms moet er wel worden gesleuteld, want niemand wil graag een goed hoorbare fout bij herhaald beluisteren terughoren, zo in de trant van 'daar is ie weer'. Het is daartegen goed verdedigbaar om een ietwat groezelige passage of een minder goed gedefinieerde frase gewoon onaangetast te laten, want volmaaktheid mag geen doel op zich zijn of worden.
www.opusklassiek.nl
April 2016
The
Smetana Trio,
founded in the year 1934 by the legendary Czech pianist Josef Páleníček, is today one of the foremost Czech ensembles. In 2014 the Smetana Trio celebrates 80th jubilee of its foundation. It can be seen frequently on leading concert stages both in the Czech Republic (Prague Spring, Janáček May, Moravian Autumn, Concentus moraviae, Malá Strana Chamber Festivities) and abroad (France, Germany, Switzerland, Great Britain, Benelux, Italy, Slovenia, Croatia, Japan, Brazil, USA, Canada, South Korea, Egypt). The Smetana Trio works with leading conductors – i. a. Jiří Bělohlávek, Libor Pešek, Serge Baudo, John Axelrod, Michael Boder, Tomáš Hanus, Stanislav Vavřínek – and Czech and foreign orchestras, including, for example the Bamberg Symphony Orchestra, Orchestra della Svizzera italiana Lugano, the Prague Symphony Orchestra, the Prague Philharmonic, the ONPL Orchestra Nantes, the Chamber Philharmonic Orchestra Pardubice, the Moravian Philharmonic Orchestra Olomouc. The Smetana Trio has made a number of recordings for Czech and international labels and has recorded regularly for Supraphon since 2000. This cooperation has brought a number of prestigious awards both at home and abroad – e.g. a CD with works by Smetana, Suk and Novák (Supraphon 2005) received prestigious awards from the French magazines Diapason and Le Monde de la musique. This recording was also chosen by the British BBC Music Magazine as its chamber musicrecording of the month in August 2005. Another Smetana Trio recording, this time works by Dvořák (Supraphon 2006), was again voted by the BBC Music Magazine as the best recording of the month in September 2006 and later received the BBC Music Magazine Chamber Award for 2007 and also the prestigious French Diapason D'Or. The recording of trios by Tchaikovsky and Dvořák (Supraphon 2008) received the BBC Chamber recording of the month in December 2008. Other Supraphon recording project, released in autumn 2012, are complete piano trios by J. Brahms. The most recent recordings are with works by J. Brahms – 1st part of complete concertos (Double Concerto and Piano Concerto No.1 – TRIART Recording 2013) and complete recording of trios by Shostakovich and Ravel (Supraphon 2014) – MusicWeb International – recording of the month, June 2014. In 2015 the Smetana Trio recorded the complete trios by B. Martinu.